Festival season has officially arrived!! You know what that means?
It means I finally got to experience the fun, sweat and food of being at a music festival for three days!
I'd never been to a music festival before, but earlier this year I came across the lineup for Bottle Rock (which takes place in Napa) and saw that Brandon's all time favorite band, Red Hot Chili Peppers, was headlining. I panicked out of sheer excitement, called Brandon and asked the most obvious question ever: do you want to see them live?
Next thing I knew I was whipping out my credit card and buying tickets to all three days. Some Napa natives gave me the side eye for this as if it's a rookie mistake, but I never worried. The line up had artists Brandon and I were both excited about like The Lumineers and Florence and the Machine and Buddy Guy outside of RHCP.
While I was super excited to enjoy the music I was also interested in creating as little waste as possible.
A quick aside about the zero waste movement — I find those who embrace the zero waste life admirable. I think it's awesome that they've all found their way of being kinder to the earth. But me? I can't do zero waste the way the zero wasters on Instagram can for lots of reasons, the biggest being I simply don't have the resources to do it.
But I've thought a lot about it and I've decided that all the limitations shouldn't stop me from starting where I can. One small change is better than nothing.
But back to Bottle Rock. Obviously, a music festival comes with plastic bottles, cups and straws, and disposable plates and cutlery. And while I commend the good people at BottleRock for requiring all these disposables to be recyclable or compostable, I personally wanted to curb my use of them. So I hopped on Amazon and bought a few things to add to my little collection of reusables! Here's the breakdown of our simple swaps!
DRINKS
WATER BOTTLES → S'WELL BOTTLES
I already hate bottled water in nearly every instance and the $3 price tag for each bottle of glorified tap water (AKA Dasani) didn't make me soften my stance any. Thankfully Brandon and I brought our handy dandy S'well bottles. They were life savers in the Memorial Day heat! Props to CamelBak for sponsoring three free water refill stations! It made ditching the disposable that much easier!
PLASTIC PINTS → STAINLESS STEEL TUMBLERS
I originally planned on using a mason jar but sadly glass containers weren't allowed in the venue. Which actually made total sense once I thought about what an insurance nightmare glass containers would be with over 40,000 people trampling through grass and pavement. I ended up buying stainless steel pints for $20 on Amazon. I know they'll be used when we go camping or during a lake day or a daytrip to the redwoods.
They worked beautifully. I have to admit that I was totally nervous to ask for my drink in my own cup. I actually considered putting away my pint and taking the plastic cup out of nervousness! I ended up mustering up enough courage to ask anyway and you know what? The server was super easy going about it. It wasn't nearly as big a deal as I'd made myself believe it'd be.
ITTY BITTY STRAWS → STAINLESS STEEL (BENDY!) STRAWS
Ok, talk about unnecessary trash! I don't keep straws in my apartment and rarely grab one when I'm out at a restaurant, but I suspected the adult beverages would come heavily iced which would then require a straw. I bought a pack of six straws – half bendy, half not on Amazon, packed them in the backpack and didn't order a single cocktail all weekend. After what I can only describe as near heat exhaustion on day one, I decided to avoid drinks that would dehydrate me.
Even though they didn't get much use at BottleRock, I've been keeping a straw at my desk since then, just in time for iced coffee season. Let me tell you: it rocks! I plan to keep one in my purse from now on.
FOOD
EATING OUT → EATING AT HOME
I had hoped to bring some snacks in a cotton drawstring bag or wrapped up in a cloth napkin, but outside food wasn't allowed into the festival so we had to change our plans. We made breakfast sandwiches each day to make sure we could spend our time at the festival enjoying the music instead of waiting in line for food. Not only was our breakfast delicious, it kept us from using disposable containers for at least one meal a day!
I chose not to bring my own container for food. I did buy one I thought was big enough for Brandon and I to share but when it got here I realized it wouldn't hold enough food for us to split…unless that food was a sandwich made at home. The containers are pretty pricey soo I'll for sure test out how useful Brandon and I find the one we currently have before I buy another one.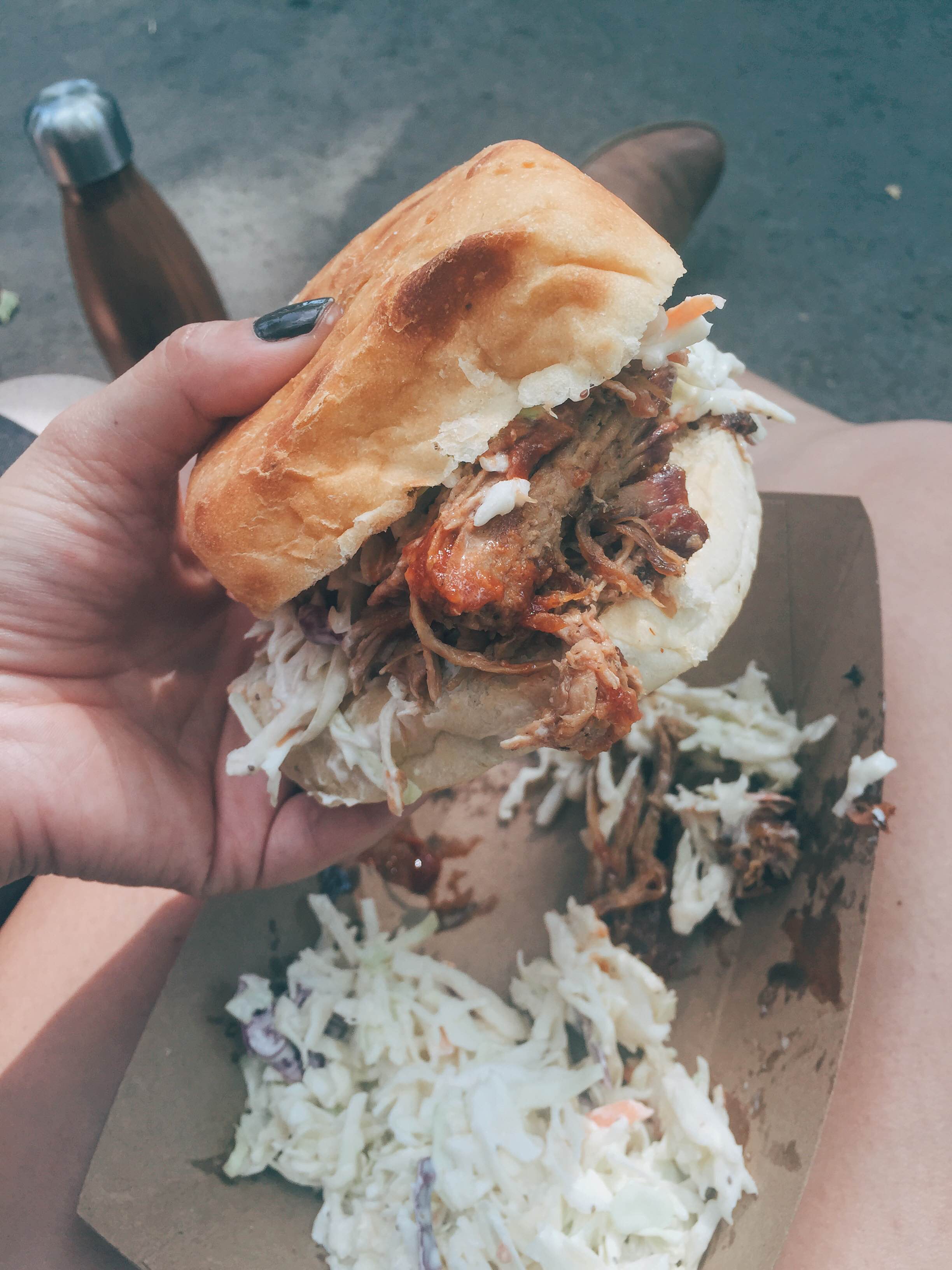 PLASTIC FLATWARE → SPORKS!
Another thing that didn't get a ton of use this weekend but will definitely come in handy during camping and all the summer lake days was the set of sporks I bought. We packed them all three days but ended up opting for meals you eat with your hands like pulled pork sandwiches, steak sandwiches, burgers and fries. Lots of French fries!
It should go without saying, but being more zero waste doesn't mean buying a ton of supplies. I chose to buy the stainless steel container because it's lighter than the glass ones I own and I don't have any of those thin plastic Ziplock containers. The sporks are a cute doodad I can keep handy in my purse when we go on day trips, but bringing an old spoon and fork set is totally cool too! You could even wrap it in a tea towel or cloth napkin to keep it all together and clean.
ALRIGHT, TO RECAP:
BRING YOUR OWN WATER BOTTLE

BRING YOUR OWN PINT (OR JAR IF IT'S ALLOWED)

PACK A REUSABLE STRAW

PACK SOME UTENSILS

BRING YOUR OWN CONTAINER FOR FOOD
I definitely enjoyed my time at BottleRock this year. It was exhausting in such a good way and I'm so thankful I finally got to experience a music festival.